Heart & Vascular Associates of Augusta is committed to providing our patients with highest quality of care.
We are the only private cardiology practice in Augusta accredited by the Intersocietal Accreditation Commission (IAC). This accreditation means that our facility has undergone an intensive application and review process demonstrating our adherence to quality care.
Our technologists are also certified by the American Registry for Diagnostic Medical Sonographers (ARDMS) and the Nuclear Technology Certification Board (NMTCB).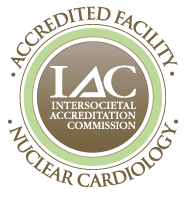 ---
Nuclear Stress Test
An imaging method that uses a radioactive isotope to show how well blood flowing into the heart muscle and rule out any potential blockages.
Exercise Test
Test of cardiovascular capacity made by monitoring the heart rate during a period of increasingly strenuous exercise.
Echocardiography
An ultrasound of the heart that provides pictures of heart valves and chambers, allowing the sonographer to evaluate how well the heart contracts.
Vascular ultrasound
An ultrasound used to examine circulation of vessels in the body, identify blockages in arteries and veins, and detect blood clots.
Cardiac catheterization
An invasive imaging procedure used to examine heart function.
Pacemaker
A pacemaker is a small device implanted in chest that helps control abnormal heart rhythms.
Stent placement
A stent is a small metal mesh tube placed in an artery to treat narrowed or weak arteries.
Event monitor
A portable device that records your heart's activity when you have symptoms, used for monitoring long term symptoms that occur less than daily.
Holter monitor
A portable device worn for 24 to 48 hours that continuously records all of your heart's activity.
---
Questions about any of these procedures?
Feel free to contact us to schedule your appointment today